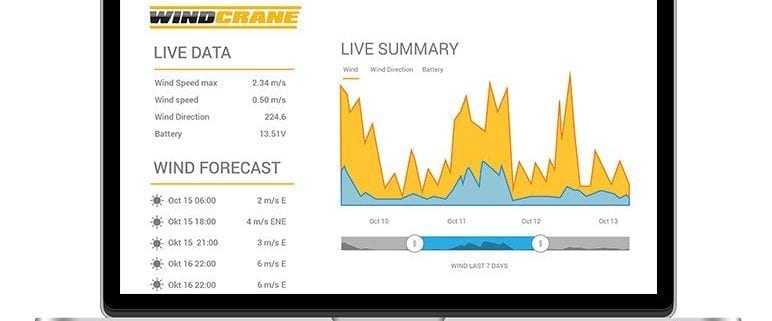 Anybody working in the construction industry either here in the UK or anywhere else in the world is likely to know that the weather can present us with particular hazards. While rain, ice and snow are particularly dangerous to work in, we must always be aware that the wind is also likely to make conditions unsafe, particularly for those who work at height and those who operate access machinery like cranes.
It's often the case that adverse weather conditions, especially strong winds, will lead to what's known as NPT (that's Non Productive Time) – downtime when it's not safe to operate the crane due to the high winds. This can lead to delays in the project and the extra costs incurred by having the workforce unable to carry out tasks while they wait for the wind to drop and the crane to become operational once more.
Project case histories reveal that NPT days can increase the overall time for job completion by more than 100% in some instances which adds significantly to the total project costs. This means that any construction project that involves the use of a crane will need to take into account downtime that results in hours lost due to adverse weather – the total number of working hours expected to be lost to the thresholds of wind speed. The total hours lost will need to be recorded accurately with evidential weather reports so that this information can be used when the inevitable disputes arise.
These disputes are known in the industry as weather claims – inclement weather delays will need to be verified with detailed weather summaries showing the actual values and the departure times from the long term average. These downtime disputes represent a real problem in the construction industry so post project reports often rely on accurate historical weather data in order to settle any claims. This means that crane operators in particular will need an accurate record of the weather conditions throughout any project that can be referred to in order to help settle downtime disputes and claims.
A large number of companies in the construction and manufacturing industries rely on overhead cranes for lifting and transporting materials. Overhead crane accidents account for several injuries and fatalities every year and crane operators need to be aware of particular hazards that occur and follow the relevant safety procedures to avoid them.
While many accidents that involve cranes are the result of mechanical errors, inadequate experience or lack of training (all of which can be addressed), some accidents are caused by forces beyond the crane operators control, such as weather conditions, especially when there are high winds. Those who work at height using access equipment also need to be aware of the effect high winds can have and the need to minimise the risk of accidents caused by gusty conditions.
WEATHER HAZARDS
Working during windy weather involves taking extra precautionary measures and all crane operators should have the following procedures in place:
Procedures to respond to high wind alerts
Procedures to coordinate with other cranes
Procedures for securing cranes in high winds.
If the weather conditions are severe then it's likely that crane operators will face significant delays in work – this will have a knock on effect on any construction site as work may come to a total standstill while the workforce is waiting around for the wind to drop and the crane to become operational once again.
THE COSTS OF ADVERSE WEATHER CONDITIONS
A Construction Trade Survey shows that activity in the construction industry decreased during the first quarter of 2013 with the impact of falling demand being intensified by poor weather conditions. When a crane is out of service due to high winds or other harsh weather conditions, the project is delayed which can be very costly and often leads to disputes between employers and contractors in relation to project delay.
The contractor may be entitled to an extension of time to complete the work necessary and this may lead to a claim for direct loss and expense, a dispute which is often stringently contested. When there is a delay to a construction project which impacts on the completion date and that delay was not caused by the contractor, then this can be seen as a 'compensation event' for which the contractor may be entitled to an extension of time and, in some cases, loss and expense.
While some contracts list adverse weather conditions as a relevant event, others may not. Even if adverse weather is not specifically mentioned, it may still qualify as a neutral matter which directly affects the completion date. However, contracts don't always define the term "adverse weather", leaving this to the discretion of the contract administrator which is a potential source of disputes.
With adverse weather conditions affecting the progress of construction projects, it's essential that construction companies understand the rights available to them and the contractual processes which must be followed before any extension of time or additional payment can be authorised.
The construction industry is Europe's largest industrial employer, generating nearly 10% of the European Union's GDP and the industry plays a crucial role in the economic recovery that is so badly needed.
OPERATING IN HIGH WINDS
All cranes have a maximum design wind speed for safe operation and if the wind exceeds this limit, the crane must be taken out of service. Different types of crane, different models of the same type of crane and different configurations of the same model may operate with different maximum wind speeds. This all means that an accurate way of measuring wind speed is essential in order to operate both safely and efficiently.
HOW TO AVOID EXTRA COSTS IN CONSTRUCTION
Because the severity and duration of adverse weather conditions is notoriously difficult to predict and the weather can change so rapidly, contractors need to find other ways to keep an eye on the weather in order to ensure maximum safety on building projects. This is where WINDCRANE™ comes into play – it helps contractors to monitor wind speeds (whether on construction sites, roofs, tall structures or cranes) and ensure that the appropriate health and safety procedures are followed.
Maintaining safe levels of operation is essential in the construction industry in order to comply with health and safety legislation. Failure to maintain safe levels can lead to fatal or life-changing accidents for workers and costly compensation claims for employers. WINDCRANE™ is the ideal solution to help avoid such accidents.
WINDCRANE™ is a tried and tested wind monitoring kit that offers the following advantages:
Live maximum wind speed and wind direction data with total accessibility (on site and in the office) which serves to minimise downtime.
Instant alerts via mobile phones and computers which allows enhanced decision making processes, particularly in the area of health and safety.
Reliable GSM wireless communication delivering data to mobile phones.
The Plug and Play technology means that there is no need for specialist installation services or technical support.   Updates are carried out automatically and remotely with no changes needed to data logging equipment on site.
Limitless operating range via GSM (Global System for Mobile Communications) signals, the default global standard for mobile communication in Europe and most other countries and the speediest and most reliable method of data transfer available.
Full historical back up of events with automatic messages sent to site managers and crane operators which results in an improved communications process. Wind speed can be viewed anytime, anywhere and historical information can be exported in an easy format for use on internal and external reports.
Tough and durable IP67 rated kit to offer total protection against dust and water immersion – the robust hardware is built to last.
WINDCRANE™ is supplied pre-wired and ready to install and provides crane operators, site managers and contractors with real time wind speed and wind gust data. This allows construction sites to comply with health and safety policy and ensure that safe and efficient work practices are adhered to during adverse weather conditions. Moreover, the WINDCRANE™ kit is 100% mobile – it can be removed and remounted in just a few minutes and can be used on multiple sites within any time period.
WINDCRANE™ allows users to view up-to-date, real-time information via a dashboard display and the kit will issue alerts to notify users of approaching maximum safe wind speeds. The kit can be powered by mains supply or a solar panel battery pack. Instant wind data is displayed on the dashboard and can also be accessed by office computers and mobile phones.
As for avoiding costs incurred due to downtime and any ensuing project delays, WINDCRANE™ provides historical information in a data management portal that can be used to provide accurate information during disputes.
Wind speed and direction is measured with an anemometer and recorded using WINDCRANE's mobile wind data logger. The wind data is sent remotely to our online data management web portal and dashboard display via GSM. The data is wirelessly transmitted to the cloud with 24/7 backup providing an efficient and reliable solution with no risk of hardware malfunction for the user.
https://wirelesswind.com/wp-content/uploads/2017/04/WC-fc3_Macbook-1.jpg
795
772
Jason Pohl
/wp-content/uploads/2017/04/wirelesswind-logob.png
Jason Pohl
2017-05-18 14:52:19
2017-06-10 15:53:47
Weather claims and wind safety